Reminiscent of a 16th century Italian Palace, Palazzo Versace Dubai is a Neoclassical masterpiece with subtle traces of Arabian architecture. Featuring a striking entrance, high ceilings, landscaped gardens, and a range of well-crafted Italian furnishings, the hotel is truly symbolic of the Versace lifestyle. Located in Jaddaf Waterfront, less than 15 minutes away from Dubai International Airport and 8 minutes away from Burj Khalifa and Downtown Dubai, Palazzo Versace Dubai is conveniently located along the shores of the historic Dubai Creek. On arrival one is welcomed by the striking 'Pietra di Fiume' design of the iconic Medusa and Greek décor. A walk through the 5-star hotel's public spaces reveals several exclusive designs and fabrics from Versace, while the lagoon pools and reflection ponds complement the serenity of the lush gardens that surround the hotel – a true luxury retreat for leisure travellers. Every single piece of furniture and fabric that adorns the hotel's 215 hotel rooms and suites, and 169 residences, is designed and tailor-made by Versace exclusively for the Palazzo Versace Hotel in Dubai. Each of the hotel's 9 restaurants and bars is designed to have an al fresco terrace to reflect the heritage of Palazzos, where the internal court was the informal space to meet, dine and enjoy the weather. The three outdoor pools are decorated with mosaic tiles and surrounded by palm trees and flowers. The beautifully landscaped gardens and unobstructed views of the Dubai Creek and skyline, make this luxury hotel an ideal venue for weddings and social events in Dubai.
Curated offers for DLC Members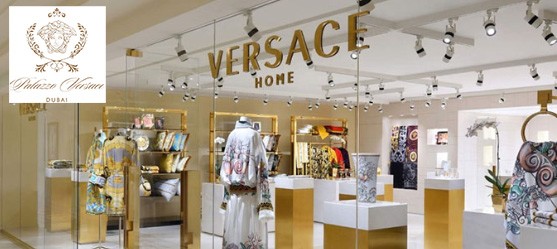 Palazzo Versace DubaiDubai
Offers Details
1. Live inventory of rooms available to book on the spot at any hour of the day
2. Upgrade to next category at the time of check-in (Max Up to Grand Suite) – Subject to availability
3. F&B credit of AED 300 per stay (minimum 2-night's stay)
4. AED150 credit per stay against Spa treatments
5. Priority for Early check-in (10:00hrs onwards) and late Check-out (up to 14:00hrs), subject to
availability
6. 10% discount on hotel limousine during the stay
7. 10% discount at the flower shop
8. Return airport transfers from Dubai International Airport for Suite guests (minimum 2-night's stay)
9. VIP amenities on arrival along with personalised
welcome message from the Hotel Manager.