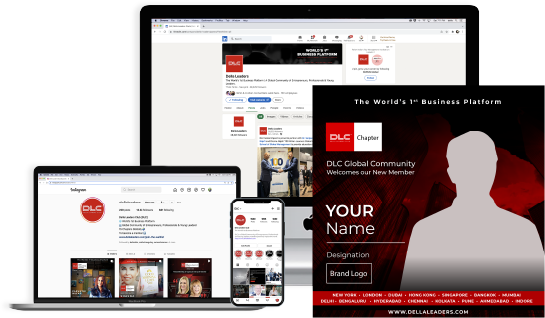 3. Invitation to chapter Instagram handles & LinkedIn members only group:
DLC operates 13 Business & 13 Lifestyle domain specific LinkedIn Member only groups and Chapter City Instagram accounts. Please do let us know the domains that interest you and your spouse so we can invite you to learn and contribute in the same. Instagram accounts will keep you appraised of the latest chapter offerings, events, celebrations and brand collabs.
You can follow :

linkedIn/dellaleaders
Instagram/dellaleaders
New Member Introductory Post :
At DLC, we are proud of the progress we are making in fostering an impact-focused partnership and bringing on board valued Members like yourself on our Global platform. We continuously strive in curating a personalized experience for our members and hence we will be introducing and welcoming you through an introductory Post on all our Social Media Handles. In case, you want to add or alter any details please kindly inform us.